When I left on the first driving leg of the sabbatical (Atlanta-Montgomery-Selma-Birmingham) I had only 3,400 miles on the car. When I pulled into my driveway having driven home from Morgantown, WV at about 6:30pm this evening, I clocked just over 11,550. It has been a glorious "walk about."
This morning I started out having a delightful breakfast with Blake Brookshire. Mollie and the boys caught a flight yesterday to be with Blake's family for a vacation in Colorado, while Blake, who is the chief resident in his medical residency, in Morgantown, WV, stayed home to work. When they left Westminster to start his work, Dean was just three years old while Graham was just over one. Now they are five and three while baby Luke is one. Being with them again was such a joy. I really miss them here at WPC.
Lunchtime found me in Huntington, WV sitting across the table from Arnold Janicker. Arnie was on my dorm floor freshman and sophomore years and played rugby with me. He was an irrepressible character from Upstate NY, which you can see from a pic taken our senior year when we played for the Washington Irish RFC. Now a silk-stocking attorney, Arnie has become a person of deep faith and with his wife, Amber, have begun fostering three young siblings after their own children have grown. He was through Nashville a number of years ago and I was able to take him to "Arnold's" for lunch, so I teased him that I was disappointed he couldn't find a "Guy's Luncheonette" to treat me!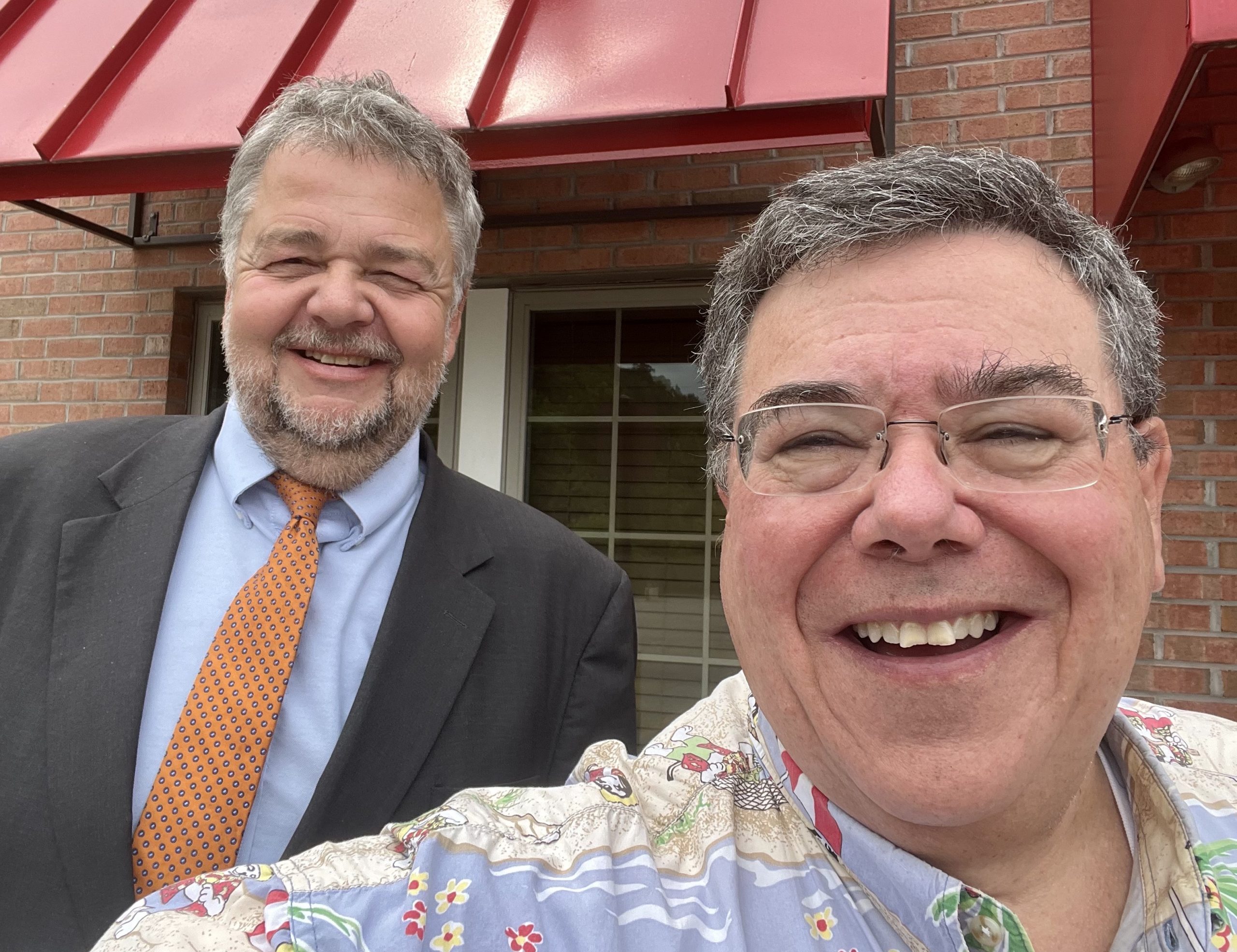 It was good to have a reason to break the trip up, but I was anxious to get home at a reasonable time. When I arrived, I was surprised that Amy and Leah had dinner ready. Unloading the car looked a little like clowns coming out of a clown car; there seemed to be more stuff in there than when I started out. But now most of it is sorted and the washing machine is humming. It will be good to be back at church tomorrow. No doubt it will take a little while to integrate it all, but I am left with an enormous feeling of gratitude for the time, the places, the art, and the friends I was able to enjoy. My friend, Bill Carter, warns me that I need to re-enter slowly. While I hope that might happen, I know Donovan and Heidi need their own time away for rest and renewal, though the thought of riding a bicycle across a state in the middle of the summer doesn't sound restful to me! Joel, who has been the one to get these blog posts up on the website, has asked me to write one more a week or so after I get back so I have a full 50, so watch for the last one next week.