"I was glad when they said unto me, 'Let us go into the house of the Lord.'" (Ps. 122:1)
Yesterday, the first Sunday after Easter, I learned long ago to my surprise, is called in the "non-lectionary calendar" "Cannonball Sunday." As in, you could fire a cannonball through the sanctuary and not hit anyone. AKA "seminarian Sunday" because for those of us serving churches in seminary it was often the one Sunday we would get to preach. After all, no self-respecting pastor would turn over the pulpit to a novice on an important Sunday, but the Sunday after Easter, well, the thinking goes, who is going to be there anyway!?! What damage could possibly be done? Lately I've heard there is a move to call it "holy humor Sunday" which is in some ways a nod to Fred Buechner's Telling the Truth: The Gospel as Tragedy, Comedy, and Fairy Tale. It is not, to no-one's surprise, a movement I have jumped on, curmudgeon that I am. Even so, I am not used to having a Sunday "off" for being in worship, no matter who is in the pulpit or leading. So, I woke yesterday and did my private worship, but with a sense that my day wasn't fully complete as if I could still here the echo of the glorious brass that played for Easter.
Never fear: God provides! We were in a little town of Krems, Austria and our first tour took us to Gottweig Abbey, a Benedictine Abbey founded in 1083 that sits on top of a hill looking every bit as impressive as Monte Cassino in Italy. I hadn't made the "shore talk" the night before, so wasn't prepared for what we encountered. I mean, I knew we were going to an abbey, and I've been to abbeys before, so NBD, right? Ah, no. Once we gathered, had some refreshing apricot juice made by the monks, and watched an orienting video, our guide (wisely) took us directly to the church so we could see it before Sunday worship started. It was glorious to see but made even more worshipful as a brass sextet was practicing for the morning service. We couldn't hear the guide, which was fine, all I wanted to do was sit and listen and worship in that glorious space. Thank you, Lord!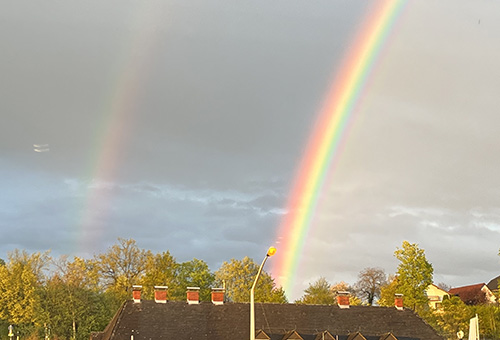 The afternoon was spent sailing through the Wachau Valley with its steep, terraced vineyards and lovely small towns dominated by beautiful church spires. Given that it was an overcast day it seemed almost miraculous that the sun came out for the length of our passage. But not a minute more! Literally, just as we passed the last landmark the clouds rolled in black and ominous and then unleashed a torrent of rain and hail! Haven't ever been out on water in a hailstorm before – talk about wild! But then, during dinner, a double rainbow came out. It was the most intensely vibrant rainbow I can ever remember seeing. Surely a sign of God's presence and provision. All-in-all, a remarkable, relaxing sabbath filled with worship and wonder at the goodness of God.
We enjoyed dinner with two couples traveling together. It turns out that all of them are in clinical research, so Amy and they had lots to talk about. So fun to get to know new friends.
During the night we docked in Linz, Austria. We'll head out on a walking tour in a few hours. This is Hitler's hometown and the place where he planned with Albrecht Speer to build the Reich's massive new art museum filled with the art stolen from all over Europe. The movie (and book is even better) The Monuments Men tells the gripping tale of a GI unit tasked at the end of the war of finding the looted art before the Nazis could destroy it or the Soviets capture it. So, I approach today – rainy as it is – with a deep sense of history of this place.