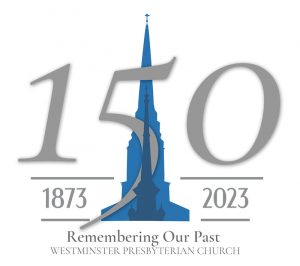 On April 16, 1938, the Nashville Banner announced on its front page (above the fold!) that Westminster Church would seal the cornerstone of its new building (under construction) on Easter Sunday, April 17. A copy of the newspaper (see photo below) was found in the time capsule inserted in the cornerstone that Sunday.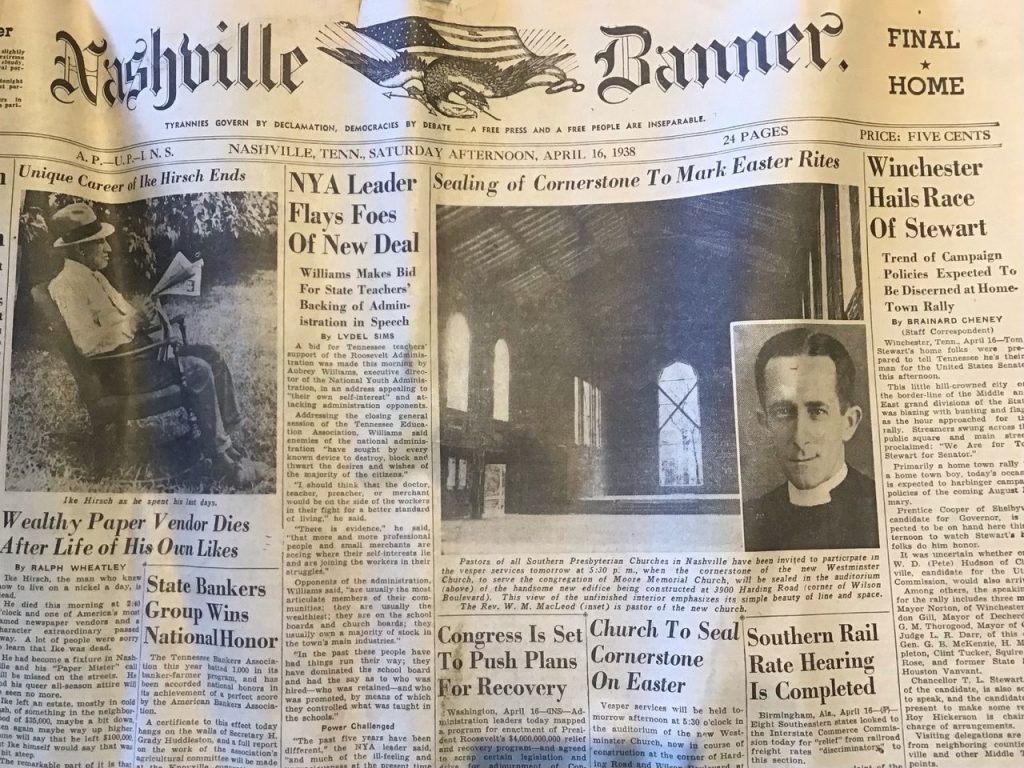 From the Nashville Banner article:
Church to Seal Cornerstone on Easter
Vesper services will be held tomorrow afternoon at 5:30 o'clock in the auditorium of the new Westminster Church, now in course of construction, at the corner of Harding Road and Wilson Boulevard, at which time the cornerstone of the handsome new edifice will be sealed. All Southern Presbyterian pastors in Nashville have been invited to participate.
The Rev. W. Murdock MacLeod, pastor, will give a brief history of Moore Memorial and Westminster Churches, and in addition the active Presbyterian ministers, Dr. James I. Vance, pastor-emeritus of the First Presbyterian Church [now Downtown Presbyterian Church], and Dr. A.S. Allen, pastor-emeritus of the Second Presbyterian Church, will participate. Dr. John L. Hill, book editor of the Baptist Sunday School Board, will conduct the devotional service, and Miss Evalina Harwell, daughter of Mr. And Mrs. Sam K. Harwell, Jr., will place the box in the cornerstone.
Special Music Program
There will be a special musical program b the Moore Memorial choir, and 700 chairs will be placed in the church auditorium for the convenience of the congregation.
The new church, which will replace the present edifice erected sixty-five years ago, probably will be completed this fall. Construction on the $110,000 building was begun October 28, 1937, after plans by Warfield & Keeble, with Hobart Upjohn of New York, well-known designer of churches, as consultant. A needle spire, 150 feet tall, will be an imposing feature of the new brick and stone edifice, and a portico and columns at the entrance will add a Colonial touch. The church grounds are to be landscaped, and its auditorium, designed to seat 750 persons, will be among the larger church auditoriums in the city.
Among the articles to be place in the copper box which is to be sealed in the cornerstone are the following; History of Moore Memorial Church, roll of all persons who have joined the church, as well as children baptized there, roll of present membership, which constitutes the first list of charter members of Westminster Church, by which the congregations will be known hereafter, a brief history of Presbyterianism in Nashville, and a copy of local newspapers.