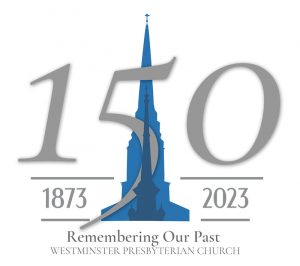 Dollar by dollar, inch by inch, the Moore Memorial congregation neared its goal. On October 23, 1937, they broke ground for their new church, and Miss Mattie Thompson, only surviving charter member of Moore Memorial, was present.
By October 19, 1938, the shell of Westminster Presbyterian Church stood–with no heating plant, no plumbing, no permanent floor, no pulpit or pews. The congregation had spent $73,691 and would need $38,000 more to finish it. Sam K. Harwell, Sr. and his family donated the money for the spire for the new church and later gave money to build the chapel in memory of one of the Harwell sons. When the finance committee made their final report on May 1, 1940, they had $94,435 pledged.
On September 3, 1939, the last service was held at Moore Memorial and on September 10, 1939, the first service was held in the new church. Macleod, in his last sermon at Moore Memorial, noted that the congregation had grown from 45 to more than 1,000 members in its 66 years there. Eight months after Macleod preached his first sermon in the new church, he suffered a heart attack and died.