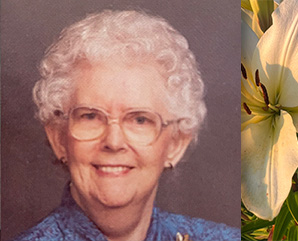 Nelda Maxwell | The Morganton Years
"Here's the church. Here's the people. Open the doors and see all the people." I love the Church, but who would have guessed that "all the people" come with so many names. While my mind is able to pull up the oldest Jeopardy questions without a hitch, my brain becomes panicked with names. It happens even with people I know very well. The tap shuts off; and until I relax, the names won't come pouring in. So, if it looks like I'm struggling with your name, just give me a massage!
When I met Nelda, I wondered how in the world I was going to remember her name. She was the first "Nelda" that I had encountered. Imelda Marcos of the Philippines was in the news because she was found to have three thousand pairs of shoes. "Imelda" sounded like "Nelda," so the next time that I encountered this woman, I would see shoes. Shoes would trigger "Imelda," and "Imelda" would get me to "Melba?" "Nelda," she corrected me with her wonderful smile. Nelda always smiled when she spoke. What a gift!
Another gift was when she welcomed us to her apartment at the Grace Ridge Retirement Center, where we sat on her porch to admire the view: "Behold the Blue Ridge Mountains!" With a sunset sky in the making, Nelda proceeded to point out each mountain peak. "Of course, you know Table Rock, and the one next to it is Hawk's Bill. That is Brown Mountain, and the one you see that looks like a man's face is called Grandfather Mountain." "Nelda," I said, "it never occurred to me that every mountain has a name. I'm from Iowa where we call scenery hills, corn or beans." She chuckled and then said, "Each mountain has its own character, and each is beautiful. But when you see the whole family together, it's even more beautiful, don't you think?" She said with her smile, "It's like a family reunion. It's a little slice of heaven."
I will lift mine eyes unto the hills, from whence cometh my help.
My help cometh from the Lord, which made heaven and earth.
(Psalm 121:1-2 KJV)
As I write this, I remember each name without failure. I can see each person. They all come together, a family reunion, a slice of heaven. They smile into the sunset.