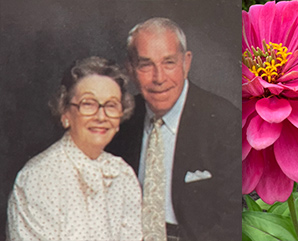 Duke & Irma Dell | The Morganton Years
In a condo just off West Union Street lived a very retired Duke and Irma dell Mercer. Duke was a former furniture salesman who looked like he could have hung around with Frank, Dean and Sammy. Duke told stories that smelled like tobacco and usually came equipped with a punchline. Irma Dell looked like what the mind conjures up when you hear Irma Dell. She drove a '67 mountain green Camaro. I wanted that car! In 1994 the car had about twelve miles on it. She only drove it to Harris Teeter's and back home. If you went to visit Duke and Irma Dell at 5:00 p.m., she would ask you if you wanted a cocktail, which explains why I often stopped there on my way home.
One day Irma Dell got sick. As the disease progressed, she moved to a nursing home. Whenever she awoke in the middle of the night, she would start singing hymns. The nurses would run in, saying "Shhh! Irma Dell, it's nighttime. Go back to sleep. Why are you singing hymns anyway?" Irma Dell answered, "When I sing hymns, I know I'm not alone."
One day I asked Duke if he would like to come to the nursing home when I served Communion to Irma Dell. When we got there, she was so happy to see us. We shared in Communion, and then it was time to leave. I watched Duke give Irma Dell a farewell kiss that was so beautiful that I had to look away.
A couple of hours later I was at the church when the phone rang. It was Duke. Chuckling, he asked if I was feeling all right. I said, "Yes." He then said, "What do you suppose was in that grape juice we served?" I said, "What?" He continued, "Irma Dell just died. I was wondering what we served her." That was classic Duke! "Duke, I am so sorry." He replied, "I'm just so thankful that the last time I saw her we were in Communion."
I traveled with Duke to Burlington to conduct Irma Dell's graveside service.  Duke drove his old Cadillac like he was sitting in a lounge chair with a drink in his hand.  Every once in a while the windows would roll down and he'd light up a cigarette. The windows would come back up and he'd say, "I hope I didn't ruin your hairdo."   
We buried Irma Dell and drove home in silence.