Click this link for sermons on the Podcast Player
"A Living Hope Through The Resurrection Of Jesus Christ" | Second Sunday Of Easter | April 16, 2023 | Carlos Emilio Ham preaching
I Peter 1:3-9
3 Blessed be the God and Father of our Lord Jesus Christ, who according to His great mercy has caused us to be born again to a living hope through the resurrection of Jesus Christ from the dead, 4 to obtain an inheritance which is imperishable, undefiled, and will not fade away, reserved in heaven for you, 5 who are protected by the power of God through faith for a salvation ready to be revealed in the last time. 6 In this you greatly rejoice, even though now for a little while, if necessary, you have been distressed by various [a]trials, 7 so that the [b]proof of your faith, being more precious than gold which perishes though tested by fire, may be found to result in praise, glory, and honor at the revelation of Jesus Christ; 8 and though you have not seen Him, you love Him, and though you do not see Him now, but believe in Him, you greatly rejoice with joy inexpressible and [c]full of glory, 9 obtaining as the outcome of your faith, the salvation of [d]your souls.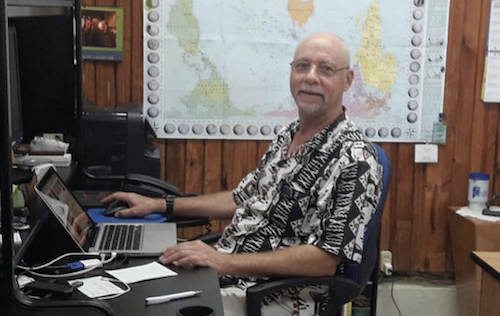 Today's Guest Preacher
Carlos Emilio Ham
Carlos Emilio Ham, President Emeritus of the Caribbean Conference of Churches (CCC), has served as a pastor of the Presbyterian-Reformed Church in Cuba for more than 35 years. He joined the staff of the World Council of Churches (WCC) in March 2001 as Program Executive for Evangelism, served as the Coordinator of the Mission and Ecumenical Formation Team, and finally as Program Executive for Diakonia & Latin America-Caribbean until December 2013.
In June 2015, he was installed as the rector and professor of Mission and Diakonia at the Evangelical Seminary of Theology in Matanzas, Cuba. He received his first degree in theological studies at Matanzas (1984), his Doctor of Ministry degree at the Austin Presbyterian Theological Seminary in Texas, USA (1999), and his PhD, in the area of Theology with the Free University of Amsterdam (2015). The title of the thesis is: Empowering Diakonia: A Model for Service and Transformation in the Ecumenical Movement and Local Congregations.