Picture gallery at the bottom of the blog!
Back in my senior year of college I landed a job waiting tables at a new restaurant in NW Washington, DC, called Quigley's. It was part of new high-end development not far from campus and it had an up-beat vibe that was a cross between Houston's and Cheers. It also had good music, in abundance. One of the nightly tracks that would be looped was the reggae album, "The Harder They Come" by Jimmy Cliff. I, of course, had embraced the genre after encountering Bob Marley's "One Love," "Three Little Birds," and "Redemption Song" but it was Jimmy Cliff that turned me into a true believer. The album, released in '71 was the soundtrack to a movie by the same name, and it is one of my top 10 favorite albums and is often described as the "iconic reggae soundtrack." Such classics as "You Can Get it if You Really Want," "Rivers of Babylon," and "The Harder They Come" stand shoulder to shoulder with "Sitting in Limbo" (https://www.youtube.com/watch?v=-I7R8-g_G0Y). They were such upbeat songs that being a waiter there was fun and the nights always passed quickly.
The song came back to me for two reasons this morning. First is it was a very short night. We had to catch a 4:00am shuttle to the airport. The first leg of the trip was Reno to Salt Lake where we arrived at 8:30am Mountain Time. My friends Bill and Rod both had relatively short layovers, and as I write just after 10:00am they are winging their way back east to homes in Clarks Summit, PA and Pinehurst, NJ. I, on the other hand, have a rather long layover; my flight doesn't leave until 1:45pm. So, I am, as the song sings,
Sitting here in limbo
Waiting for the dice to roll
Yeah, now, sitting here in limbo
Got some time to search my soul
Well, they're putting up a resistance
But I know that my faith will lead me on
Beyond the long layover, the second reason the song is with me is the text we received just as we headed to the airport. It was from Jim Kitchens, our conversation partner for the week. He had told us that he had taken two COVID tests before coming to the retreat center and both were negative. But then this text came:
Well gents, it turns out my whole family has tested positive this afternoon: my wife, one daughter, the other son in law, and now me. Please get yourself a test. You can deduct the cost from my honorarium.😏 Otherwise, have safe trips home.
He had been sneezing and sniffling while he was with us, but we thought it was seasonal allergies. Then this news. So, I am very much "sitting in limbo" until I can take a COVID test when I arrive home to find out whether this – after more than two years of dodging it – might impact my carefully planned out next stage of the sabbatical. I'm set to have my longest day driving tomorrow, from home to Bentonville, Arkansas – about 12 hours – to see the Crystal Bridges Museum on Sunday. Fingers crossed! Meanwhile, I'll just keep singing,
Sitting here in limbo
Waiting for the tide to flow
Sitting here in limbo
Knowing that I have to go
Well, they're putting up a resistance
But I know that my faith will lead me on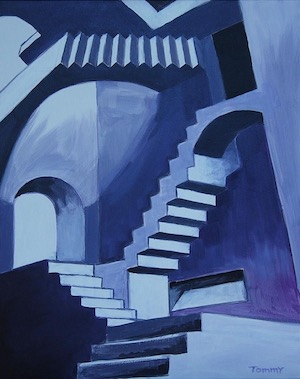 We were very grateful to have had the chance to be at Zephyr Point Presbyterian Conference Center for the week. Yesterday was breezy and the water on the lake was choppy. We laughed thinking that the complex might have been designed by E.M. Escher, because it had so many staircases connecting the buildings that were built on cliffside. We also had a delicious dinner out at Moody's Bistro Bar & Beats in the Hotel Truckee where we were surprised by a board of appetizers compliments of Ed Hurley's nephew, chef Dalvin Averill who, unfortunately, was out of town but arranged the surprise. South Lake Tahoe is partially in Nevada and partially in California. On the California side we found Heidi Hudnut-Beumler's side-hustle! Who knew she was hiding her light under the bushel back in Nashville.