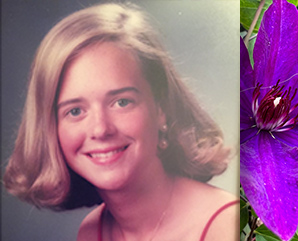 Katherine | The Morganton Years
During the 1980's, girls playing soccer in Morganton wasn't a thought, so Katherine Wilson had a thought. She suited up and played with the boys. I'm not sure why I am telling you that, except to say that she was full of life. She was my "Yee-haw" girl in an earlier episode. She was Montreat. She was the summer-scene young one stretched out on the hood of her Suburban. She would fit perfectly in a Chevy brochure, if Chevy made brochures, which featured faded Suburbans that had dents on the corners. It was a large vehicle in its day. The news was that she wedged the thing in a drive-thru at Krispy Kreme.
Katherine moved on to UNC, and a few years later I was called to Trinity Avenue Presbyterian Church in Durham, NC. I could still sense the spark of her as I read a clipping in the News Herald about a dorm fire at UNC. The cause of the fire was a halogen lamp that had ignited the pajamas of one Katherine Wilson of Morganton, NC.
I called her mom Anne to make certain that all was well after the fire. All remained well until Katherine entered nursing school and developed a dry cough combined with severe back pain, which was followed by a crackling in her lungs. A trip to the student health clinic came back with the news that pneumonia was the likely suspect. Sometime later, a trip to the hospital came back with the news that Katherine had small cell lung cancer.
Like a sharp knife through watermelon, suddenly life can change. What was is not what is. What can one do? What Katherine shared was that when she, with her parents in tow, took the first steps of her new life out of the hospital room and down a long corridor, a resident chased her down with the news "Never lose faith and hope!" I probably would have greeted those words with the curt reply of "What do you know?" However, Katherine held on to those words and defined them for me.
Katherine, Anne and her dad John found their way into my Durham congregation, where her brother J.D. was already a member. Katherine came into the Sanctuary looking thin and wearing a hat. Her dad followed with his new hairstyle – bald. One definition of faith and hope can be found in the sound that a father's hair clippings make as they fall from barber chair heights. This, too, is a prayer.
Another definition can be found in the evening phone call to your mother in Morganton in order to settle your mind, in order to feel love. Mother and daughter would talk. After a while Anne would haul out the Presbyterian hymnal and start singing hymns. Hymn after hymn, night after night. "Mom, I think that you're trying to turn me into a religious fanatic," but Katherine slept. I don't know about Anne…
There may be moms in this world who need a religious fanatic to sing to them sometimes, too. It may be why some choose the hope of a hard pew.