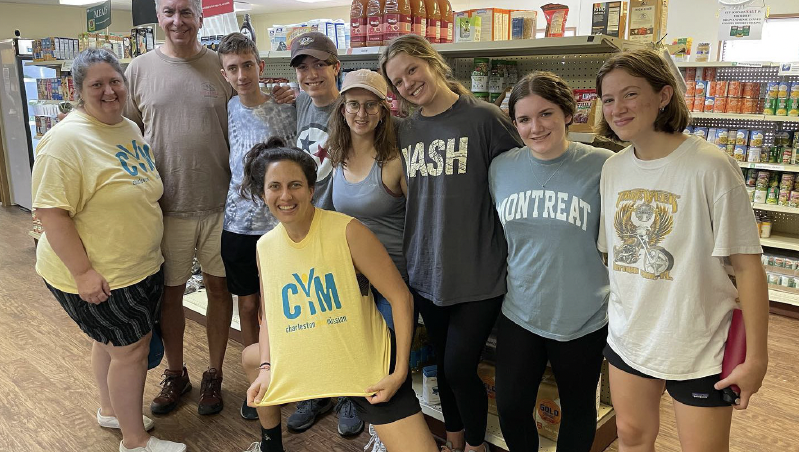 Ferrell Wilson:
I saw God in the community of Neighbors Together. Seeing the joy and fellowship that united the volunteers while serving the people of North Charleston was inspiring. I loved the idea that they are trying to put themselves out of business. Neighbors serve meals, give groceries, and much more to the people in the North Charleston area. The day we spent there was full of laughter and fun. I never expected to have fun and to serve the community simultaneously. God was so present during our time there, and I left feeling truly fulfilled.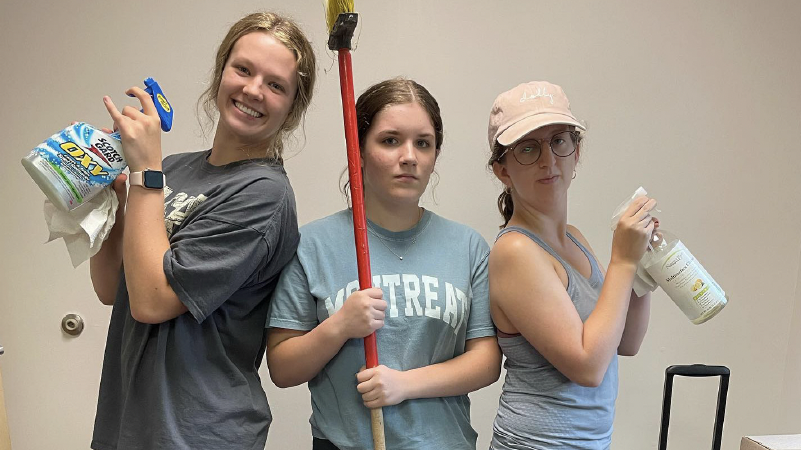 Stewart Hall:
This was my first time ever going on a mission trip. Between becoming best friends with a sixth-grader, exploring the city of Charleston and helping those in need, it was an amazing experience. My favorite part of the trip was when we went shopping for St. James Outreach. We pretended that we had $10.00 for supplies for the week. It was incredibly hard to decide what supplies we needed and how much we needed. It was also fun noticing the people staring at a cart full of vegetable oil.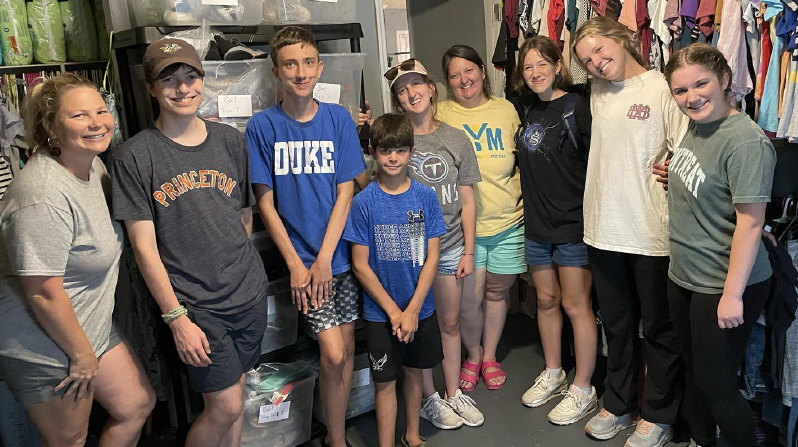 Caroline Bryant:
I saw God during our visit to Closet of Hope, a non-profit organization that collects donated clothes and shoes to let foster children and parents choose clothing they want to wear for free. I saw God in the many families that walked through the house and picked through the many rooms full of options, ages 0-18. I saw God in Kelly Green, the Executive Director of Closet for Hope's unwavering generosity for each and every one of her sixteen biological and foster children. I saw God in the family's wholeness, even after so many only knew Kelly as their mother for a few months. I saw God in the love surrounding their home, holding all of the family's shopping there, the volunteers giving their time to help there, and Kelly's family making a home for every foster child in need there.
Caroline Keiper:
My favorite nonprofit that we volunteered at this week was called Neighbors Together. I loved it not just for the amazing food we got to eat while there, but because they are truly trying to "put themselves out of business." They are always going to do their best to help their community and the people that need it, whether that is through a hot meal, healthcare, an outfit for a job interview, or pretty much anything you can think of, but their main goal is to drastically reduce the number of people that are forced to use their services. They are trying to solve the homelessness problem in Charleston one person at a time, one meal at a time. I saw God there, in the people that we served, the other volunteers, and in the feeling of knowing that actions you may consider small could help change the whole course of a person's life.
William Wyckoff:
Of all the impressive locations we visited and volunteered at, the foster aid program of Closet of Hope made the most significant impact on me. Though no less important; homelessness, hunger; all these issues are at the forefront of Westminster's focus, causing us to often neglect those issues deemed less relevant or simply forgotten. For me especially, the foster system was a blind spot in my knowledge of important issues. Save the bare minimum, I knew almost nothing about the nitty-gritty nor of the amount of work that goes into supporting the system. Closet for Hope changed this in a major way, enlightening and educating me about a difficult subject I had never seriously considered researching. At this location, a mother who barely expected to raise three children ended up with sixteen. Already an impressive feat, she went above and beyond by founding a charity dedicated to providing clothes and supplies to fellow foster parents who needed to provide for their own foster youth. After hours upon hours of clothes sorting, redesigning, and maybe too much shelf building, I felt deeply impressed with her work and passionately connected to her cause. Most importantly of all is that she was not just raising awareness (important as that is), but she was willing to dedicate her life's work to improving a flawed system while changing countless lives with it. It's one thing to hear about the hundreds of thousands of children in this difficult system, but to hear personal and emotional stories hit different than statistics. I'm a kid just like they are, how different am I from all the others out there? What would I do in their place and would I have access (or lack thereof) to the same opportunities? I feel my view of the world has been altered by this experience and my only regret is I can't help out at Closet of Hope even more. If you were like me, ignorant of this issue, I encourage you to research the foster system and find ways to get involved. You don't have to adopt 12 children, but to ignore this issue completely is to condemn people just like me to a life I'm uncomfortable imagining.